Bola Tinubu has expressed his sincerest wishes to Boss Mustapha as he Celebrates his birthday today

Tinubu disclosed that they are both founding leaders of the defunct Action Congress of Nigeria

Tinubu further noted that Boss Mustapha was of those who did tremendous work that led to the merger of progressive forces across the country which produced the All Progressives Congress

Bola Tinubu statement reads: "Today, I join family, friends and associates of Mr. Boss Mustapha, a distinguished lawyer, politician and secretary to the Government of the Federation, in congratulating him on turning 66.

"As he turns 66, I wish him a most memorable birthday. I pray that Almighty Allah grant him many more years, good health and more wisdom to continue to render meaningful services to his fatherland.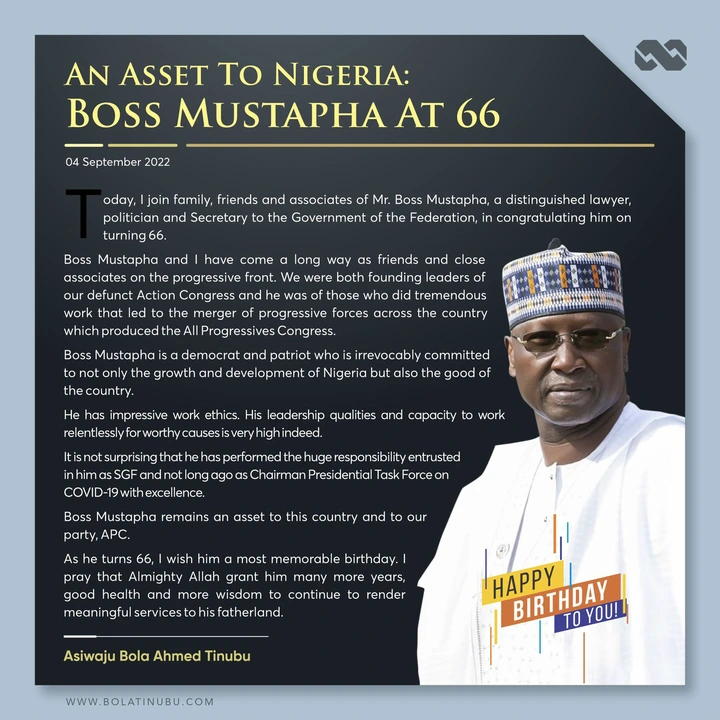 Thanks For Reading , Please Don't Forget To Drop Your Comment Below And Remember To Share, Like And Subscribe by Clicking the bell icon For More Update. Join Our WhatsApp Group Here For For Your Gift Prizes And More Firsthand Update.