Man Who Was Wrongfully Arrested, Paraded As Armed Robber Receives N2.2million Compensation
Man Who Was Wrongfully Arrested, Paraded As Armed Robber Receives N2.2million Compensation
Hi guys, in an exclusive interview with BBC News Pidgin, a young man, Richard Augustine narrates how he was wrongfully arrested, accused of being an armed robber and paraded before journalists as a criminal by the disbanded Special Anti-Robbery Squad (SARS).Augustine told BBC Pidgin that he wasn't just wrongfully arrested but also paraded and forced to confess before journalists to the crimes he was falsely accused of. He added that his photo made headlines on newspapers and televisions as he was falsely labeled as an armed robber.
Narrating his ordeal, Augustine said he was en route Kafachan, Kaduna State on the 13th of February, 2015 when he got stranded in Keffi, Nassarawa State as it was late and he couldn't find any vehicle to convey him to Kafachan.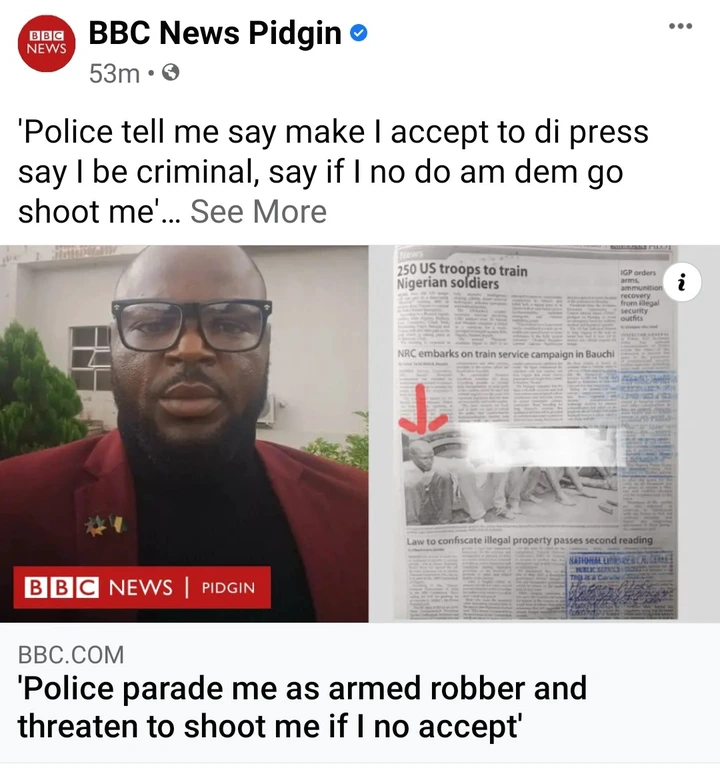 He said he decided to sleepover at his neighbor in Kafachan, who also has an apartment in Keffi. During his sleepover, he said the police stormed the building around 2:00am and according to him, they broke in with their guns and other weapons.

The police immediately identified Augustine's neighbor, as Raymond. When asked to identify himself, he said he told them he was travelling to Kafachan but he couldn't continue the journey, so he decided to sleepover there at his neighbor's apartment.

He said he showed them his identity card and explained to them that he is the Youth Secretary of Christian Association of Nigerian (CAN), Kaduna State and he was returning from Lagos. According to him, they however didn't bother to check his identity card but instead, arrested him and placed him in handcuff.

He said on their way to the Lagos State Police Command, they stopped at Kogi State Command where they allegedly told him to confess to being an armed robber. According to him, he was shot in the leg in a bid to coerce him to confess.

Upon getting to Lagos Command, he said he was told by the officers to confess to the journalists that he is an armed robber. However, while he was interrogated by the journalists, he refused to confess to being a criminal and instead, narrated what transpired to the journalists.

After narrating to the journalists how he was wrongfully arrested and coerced to confess to being an armed robber, the Nasarawa State Police Command opened an investigation into the case and the outcome showed he was innocent.

How Augustine eventually got justice

After he was released from the police custody, Augustine said he went to court in Nasarawa but his case wasn't heard as he was told that it was out of the court's jurisdiction. He then returned to Lagos State to make a case and seek justice for himself.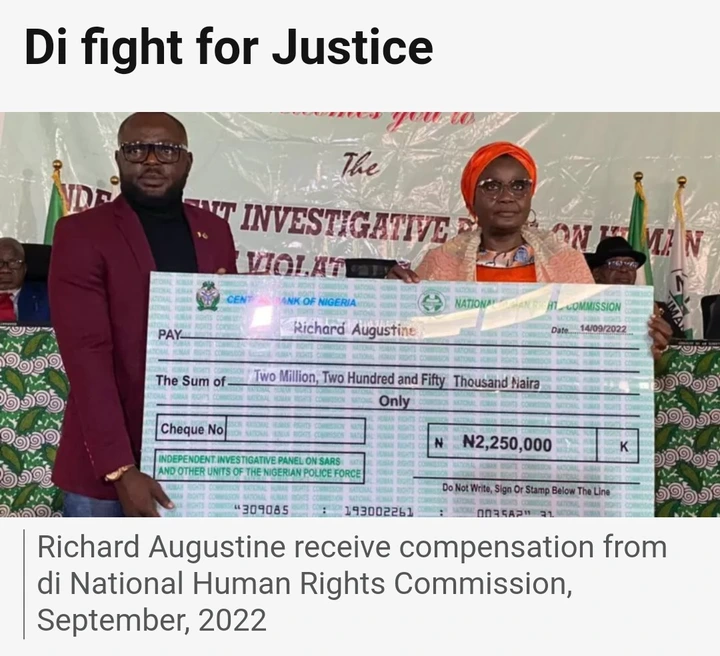 He said his travel to Lagos coincided with the Nationwide End Sars protests. So, he was able to speak before a Lagos Panel set up by President Buhari to hear victims of Police brutality. After narrating his ordeal, National Human Rights Commission, NHRC, in September, 2022, compensated him alongside 74 other victims of police brutality.
Augustine received Two million, two hundred and fifty thousand naira, (N2,250,000) from the Federal Government as a compensation. He said he is happy that he finally got justice, even though the money doesn't take away the damage caused to him and his family.