Catholic Church Releases Prayer For Late Queen Elizabeth II – The demise of Queen Elizabeth II has led to an outpouring of love from people from around the world including the Catholic church.
The Catholic Bishop conference of England and Wales has released a written prayer to be observed by Catholics for the repose of the soul of Queen Elizabeth II.
The Queen of England died at the age of 96 on the 8 of September 2022 after a long reign as queen.
While thanking God for the long and happy life that she lived, they want Catholics to pray for her soul to find eternal life in Christ.
Although the Church of England hold a huge influence on the British monarchy, they still have close ties with the Catholic church.
Historically, Queen Elizabeth met at least four Popes during her life time including the current Pope Francis.
Details of the published prayer was shared on the verified Facebook page of Vatican News on Thursday.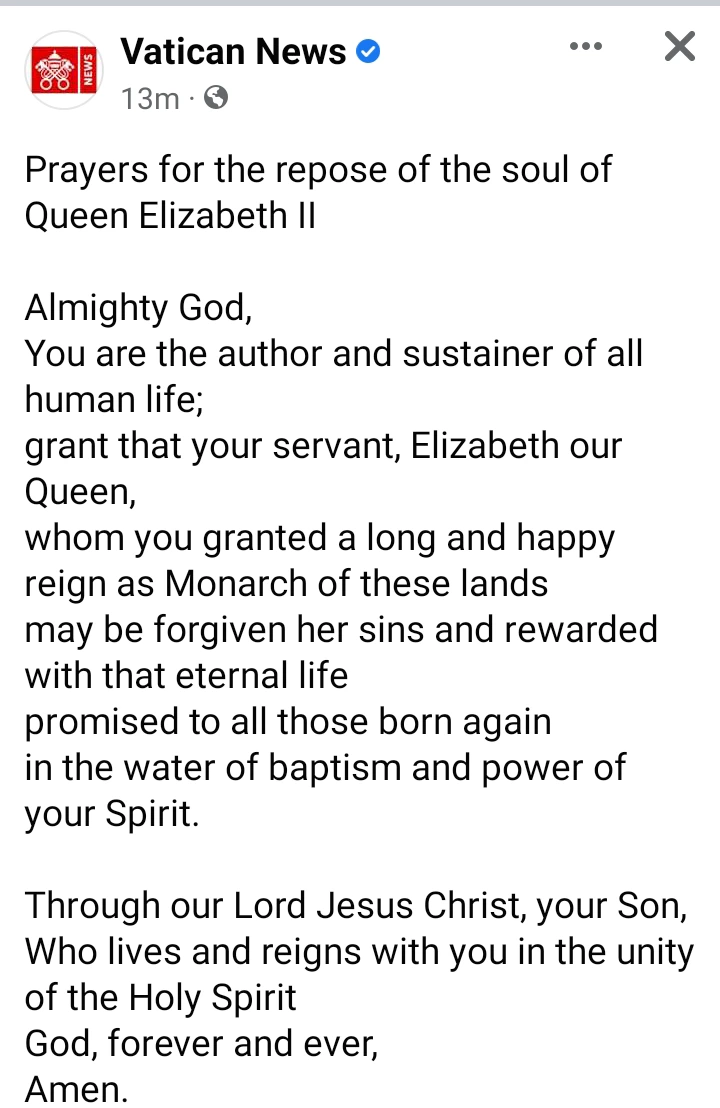 Members of the public have been reacting to the prayer released by the Bishops of England and Wales calling it a welcome development.
Thanks For Reading , Please Don't Forget To Drop Your Comment Below And Remember To Share, Like And Subscribe by Clicking the bell icon For More Update. Join Our WhatsApp Group Here For For Your Gift Prizes And More Firsthand Update. 
About The Author