Unidentified Lady Steals An 8-Day-Old Baby From Bauchi Hospital After Disguising Herself As A Staff
Unidentified Lady Steals An 8-Day-Old Baby From Bauchi Hospital After Disguising Herself As A Staff
According to Vanguard,at the Abubakar Tafawa Balewa University Teaching Hospital (ATBUTH) in Bauchi state, Nigeria, police officers of the Bauchi Police Command have initiated a search for a yet to be identified woman who is suspected of stealing an 8-day-old twin newborn boy named Mohammed Ibrahim from the hospital ward in the state.
On Sunday,25th September,2022 the incident was rightly confirmed by the command's Public Relations Officer (PPRO), Superintendent of Police SP Ahmed Wakili, who stated that the investigation into the woman's whereabouts is currently in process.
According to him, "we received a distress call on the 21st September 2022 at 2030hrs by one Adamu Haruna, 50 years old from Sarkin Buzaye village in Bauchi LGA.
"He came to 'B'-Division and reported that on the same date at about 1700hrs, his in-law, one Bilkisu Abdullahi, 25 years old of Buzaye village who was on admission at ATBUTH while receiving treatment on eclampsia after delivery of a set of twins lost her child to an unknown woman".
"He complained that an unknown lady came and disguised as a staff of the hospital, criminally took away one of the twins named Mohammed Ibrahim. The child had only been with them for just 8 days until he was taken to an unknown destination".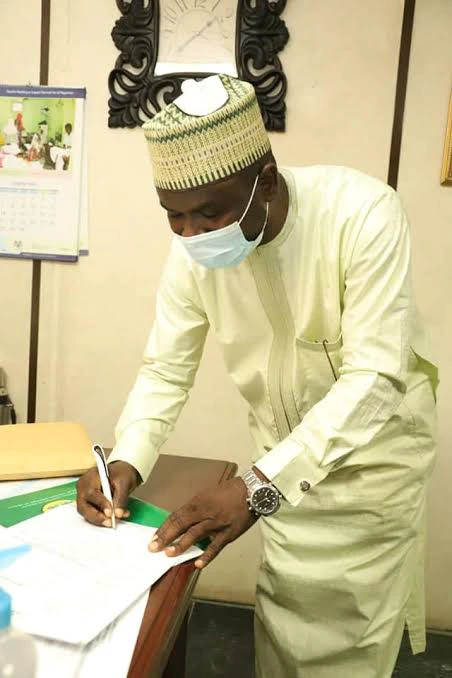 Ahmed Wakili continued saying that, "on receiving the complaint, detectives were drafted to the scene and investigation commenced immediately in order to arrest the culprit. We are trailing the woman and very soon, she will be apprehended".
The Chairman of the ATBUTH Medical Advisory Committee, Doctor Haruna Liman,verified the occurrence, which is in alignment with the statement reports provided by the police officers.
Additionally,he acknowledged that it was an unwanted turn of events and gave his word saying that the management of the medical facility will collaborate with the relevant security agencies in order to get hold of the woman.
In the meantime, he mentioned that security personnel have reportedly increased in numbers around the surrounding areas of the hospital, emphasizing that appropriate measures have been put in place in order to prevent such incidents from occurring in the nearest future.