Shehu Sani Appeals For Ekweremadu's Seat Not To Be Declared Vacant
Shehu Sani Appeals For Ekweremadu's Seat Not To Be Declared Vacant
Nigerian human rights activist and politician, Shehu Sani has appealed that the seat of the former deputy senate president, senator Ike Ekweremadu should not be declared vacant in the senate.
Shehu Sani took to social media just a few moments ago via his official Twitter page to share his view on what should be in the senate as the former deputy senate president has been away from the country for a very long time.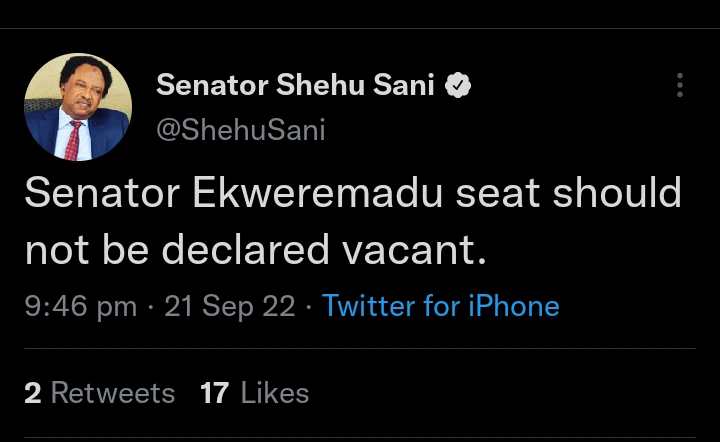 You will recall that the Nigerian senate just resumed after some weeks of break.
You will recall that Senator Ike Ekweremadu has been in custody in the United Kingdom over alleged organ harvesting. Ekweremadu's arrest has since generated several mixed reactions and feelings among Nigerians.
You should also recall that senator Ike Ekweremadu was elected into the Nigerian senate on the platform of the people's democratic party and has served in the Nigerian senate since 2003.